On Sunday, 06th August, 2017, Bee Logistics Hai Phong Branch holds a summer camp in association with the quarterly closing ceremony for glorifying employees having demonstrated excellent working performance during the past quarter and giving birthday presents to those whose were born in July and August. This is just one in a series of enjoyable team building activities to be highly advocated and fostered by Bee Logistics Corporation in general and Bee HPH in particular. This summer camp event aims at acknowledging constructive contributions by all Bee's staffs in Hai Phong and boosting the team cohesion and solidarity, increasing effective in-person communication, thereby team members learn new strengths and gain the insight with the team. These challenging team building activities have developed a highly performing team by inspiring members with shared commitment for common goals.
Leaving behind a busy city with worries and fatigue, the team had opportunity to experience a fun-packed and exciting team building program in an ancient village named Ke Giai situated in a far away and peaceful eco-tourism attraction in the countryside. The day kicked off with free sight-seeing and entertainment activity. Our beautiful ladies had a photo shoot as if they were professional models at lotus pond, in the meantime, others were sailing a boat around the lake, enjoying fresh air and pretty landscape, while some guys were having a singing show. They did have a lot of fun with laughter, with memorable moments, sharing their same excitement and favorites.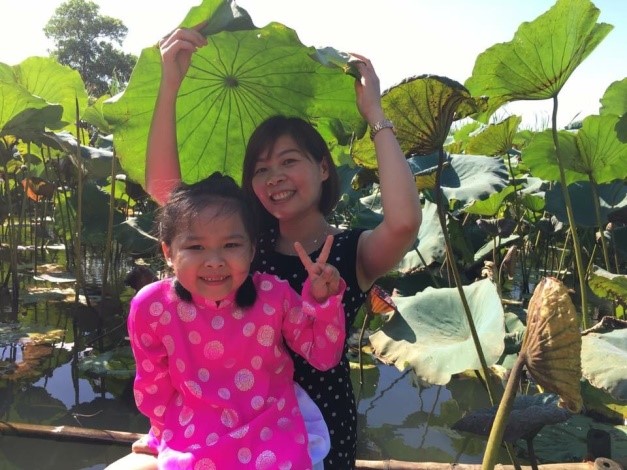 Ladies over Flowers
After an hour for free activities, the team shifted to a team building game, mallard grilling in the open air. One team was divided into three sub-teams tasked with grilling a mallard competition in the time limit of 45 minutes. Eventually, the sub-team lead by Thao triumphed over the two counterparts to become the winner thanks to their tasty grilled mallard course or the so-called "shoeblackplant-mallard".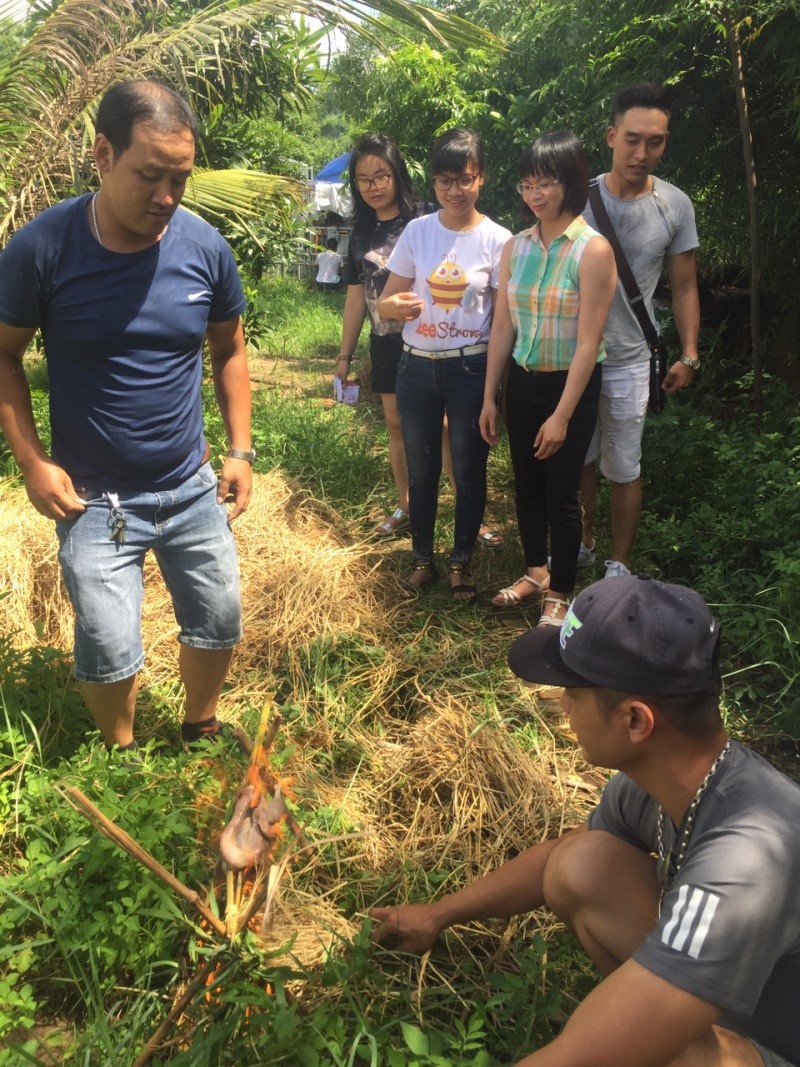 The atmosphere was upbeat right from the first step. The captains were so skillful at grilling with materials found by other warriors, including straw, lotus leaf, bamboo branches. To be bathed in perspiration due to the heat from firing, but nothing could stop them from thirsty for victory.
To join forces in a systematic and specializing assignment to every member. Each one had a role to tackle for a single common purpose under the leadership of one captain.
In the lunch time, Mr. Vu Ho Ninh, Bee HPH Director took this occasion to deliver a few words expressing gratefulness to every endeavor of Bee HPH members over the time, giving certificate of merits to Ms. Le and incentive awards to Ms. Thuy and Phuong who have been so far demonstrating the best performance. On the other hand, presents were also given to those who have birthday in July and August as encouragement from the Trade Union. Along with such expression of glory, everyone had a great time savoring palatable food – pastoral specialties in Song Trang Restaurant inside Ke Giai Village.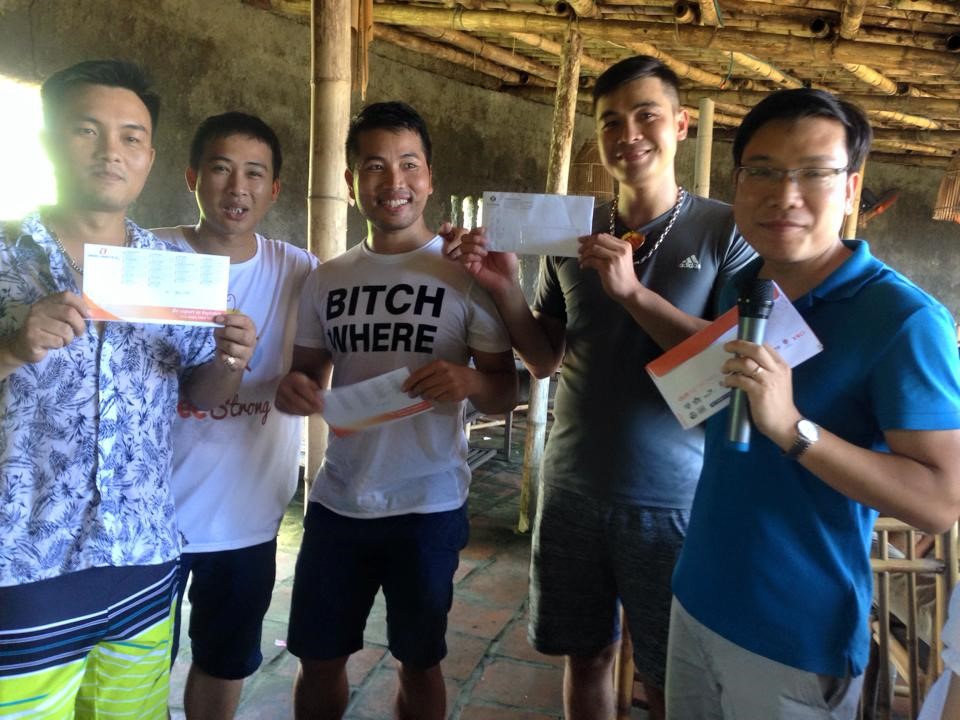 Mr. Ninh gave presents to three teams in mallard grilling competition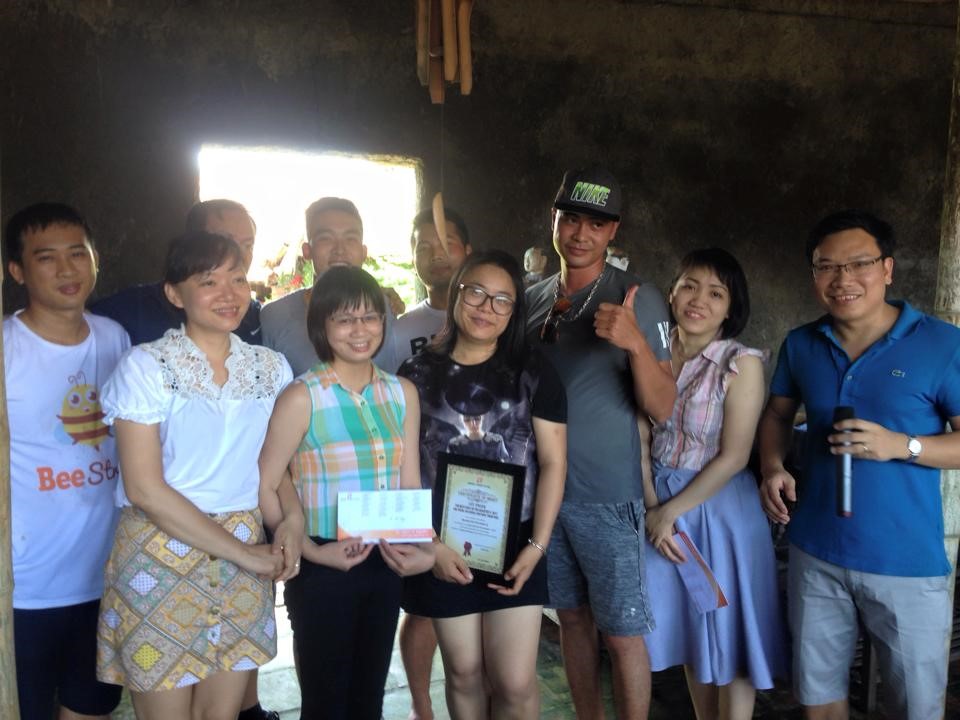 Certificate of Merit was handed over to Ms. Le, Thuy and Phuong
– for excellent performance over the past quarter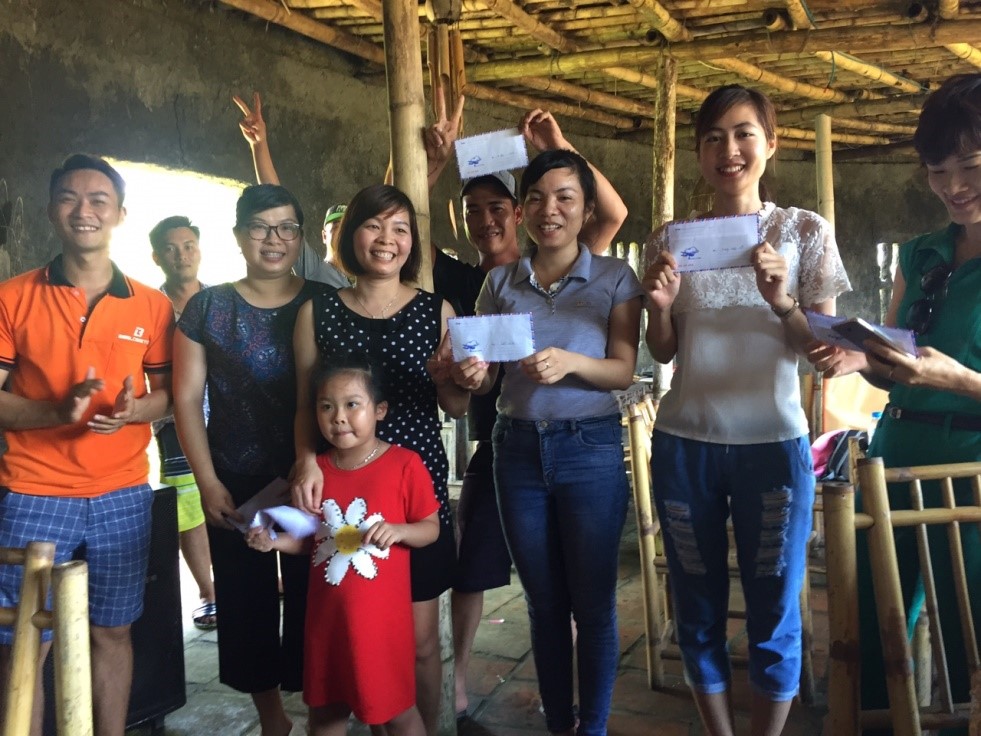 Birthday gifts giving

The camp came to close by another karaoke show where all hearts shared the same beat through love songs and sweet melody. Closing the curtains, Bee HPH did had a wonderful weekend when everybody were highly motivated to perform better and better, pursuing our core values, and keeping on trying no matter how hard the work might be, for join-hand objectives.