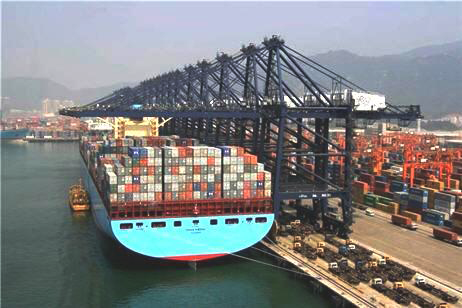 Import-export order slump has led to a drop in contract volume of local logistics firms. Pham Quang Thang, country sales manager of FedEx Express, said textile-garment and leather-shoe are the top two sectors that contribute the most to the revenue gained from air freight of FedEx Vietnam.
He said his company's orders are falling, in which orders from textile firms have declined by 30-40%. FedEx is specialized in delivering samples processed in Vietnam at orders of foreign companies. The sales manager stated his company still records revenue growth, but the growth rate is slowing down significantly. This is the general situation of express delivery service. The industry now has a growth of 10-20%, versus 30-40% four or five years ago.
There are currently four major express service providers in Vietnam, namely DHL, TNT, UPS and FedEx, said Thang. Bui Anh Duc, sales executive of the HCMC-based Bee Logistics Co., said his company's order volume has dropped 30-40% year-on-year. Not only the contracts to serve export, but those to serve import have also dipped in volume, he stressed.
Customers are experiencing tough times caused by the economic woes, while facing financial problems at the same time, thus they have reduced production and export, Duc explained. In addition to order slump, logistics companies are anxious as several shipping lines have announced to raise charges soon.
Duc said shipping fees have marked up sharply against last year. For example, shipping fees to Europe have surged 100%, the U.S. risen 50%, and China shot up 300%. Shipping cost makes up a large portion of door-to-door logistics service prices. Therefore, shipping charge hike will certainly affect service prices of logistics businesses.
Some enterprises said the competition in the logistics industry is very harsh, especially the battle among domestic companies. As such, quite a few enterprises will be willing to share their profits with customers to ensure competitiveness. The financial statements of the listed logistics companies showed that many companies recorded declines in profits.
Particularly, the profit from sales and service supply of South Logistics Joint Stock Company (Sotrans) in the first quarter was over VND26 billion, compared to VND28 billion in the same period last year. Meanwhile, Gemadept reported a profit of VND18 billion in the first quarter, a sharp drop against VND33 billion in the year-ago period.